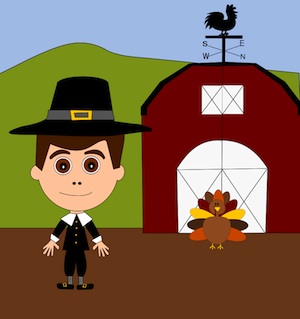 Thanksgiving takes place in November in the United States – now is a good time to break out the Thanksgiving-themed worksheets and activities in your classroom for your students or children to complete. If you're a language teacher, and you're teaching French to your students, why not have them complete this Color by Numbers activity?
For the attached free downloadable activity, students should color the picture of the Thanksgiving turkey according to the color scheme indicated on the worksheet. If you're interested, there is also a free Thanksgiving Color by Numbers in Spanish worksheet available for download on this site.
French numbers
The numbers in French from one to ten are:
One: Un
Two: Deux
Three: Trois
Four: Quatre
Five: Cinq
Six: Six
Seven: Sept
Eight: Huit
Nine: Neuf
Ten: Dix
And the number zero is: Zéro.
French colors
The colors in French used on this worksheet are:
Red: Rouge
Black: Noir
Brown: Marron
Blue: Bleu
Grey: Gris
Orange: Orange
Green: Vert
White: Blanc
Yellow: Jaune
Using the Color by Numbers pages
When using the French color by numbers worksheet, it is good practice to have your children or students repeat the French names of the words they are coloring while they are completing the activity page. This helps to reinforce the translations, and to get the names of the colors "into their heads" while they are looking at the actual colors on the worksheets.
I hope that you and your students have a wonderful Thanksgiving holiday!