Helping you achieve your teaching objectives
Mixminder is dedicated to providing free curriculum for teachers, homeschoolers and parents of children attending public or private school.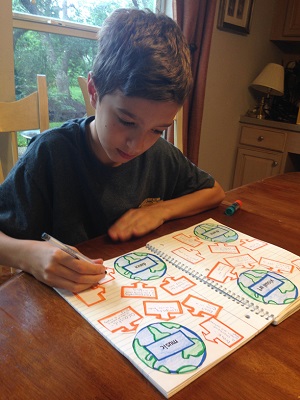 For teachers, Mixminder provides comprehensive lesson plans and worksheets for teachers to use in the instruction of their elementary and grade school students.
For homeschoolers, Mixminder helps parents provide their children appropriate lessons for their age levels, and ways to track their academic progress.
For parents of public or private schoolchildren, Mixminder provides an opportunity to give a one-a-day lesson to your children to give kids attending school a homeschooled edge. Parents and their kids can take a half hour a day to share a lesson and to work together to learn something new. Activities are designed to be fun and engaging even after a day's worth of classroom activities.
All images on the site and on the worksheets were created by hand and were not purchased from an image library.
Mixminder can be found on Facebook.
Helping people in need with free resources
Mixminder provides free worksheets to teach a variety of different elementary school skills. We have received feedback from numerous teachers, homeschooling parents and representatives from schools and nonprofit and non-governmental organizations throughout the world who, for various reasons, do not have the money or resources to attain quality curriculum to teach their children with. Their textbooks are in bad condition, scrawled in, and out of date. It is our goal to provide a variety of free resources to these educators to help them achieve their goals and to provide fun and fascinating worksheets that will help their students or children to learn and grow.
About the site creators
We are a wife and husband team with significant experience in elementary and high school education.
Yvonne Crawford has a BA in Linguistics, an MA in Sociology and an MA in Teaching English as a Second Language. She spent several years teaching English and Language Arts in the United States, Hungary, Slovakia and France. She is currently completing her doctorate in English language education. Follow her on Instagram.
Brian Crawford has a BS in Business Administration, an Internationally-focused American MBA and an MS in International Project Management from a French business school. He served as a faculty member and instructor at a top-ranked medical university in the United States and has several years of experience in online teaching and information sharing. Follow him on Twitter.
Together, Yvonne and Brian homeschooled their own children for several years and have made an effort to bring them up bilingual in English and French.