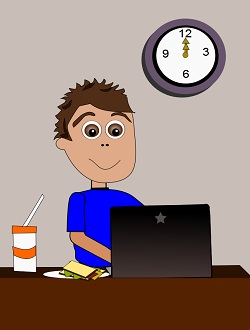 Brian writes: A while ago I wrote an article about why teachers should use Pinterest; today's article is about why teachers should start a blog – if they aren't one of the many teachers who have already done so, that is.
There is already a large community of teachers out there who are blogging – sharing classroom ideas, posting links to free and paid curriculum, and meeting other educators from around the world. It's a lot of work to sit behind your computer and type out thought-provoking blog posts – so why are people doing it? Here are five good reasons.
1. Help others by sharing knowledge
No matter who you are, you bring something unique to the table – your own ideas, ambitions, education and experience. You can help others by sharing your take on the world – the things that you love, and the things that you've worked hard to become proficient at. If you've found a teaching style that works, or employ a certain approach to classroom activities that helps your students to grow and flourish, why not share what you've discovered with others? By sharing our knowledge, we can help improve teaching for everyone. By using the Internet to share what you know, you have the possibility to touch educators throughout the world – even in some developing countries, where modern teaching practices might come in handy.
A lot of American schools are implementing the Common Core State Standards (CCSS) for mathematics and English language arts into their curriculum… as the Common Core standards are new to many teachers, now is a great time to share information about the ways that you have incorporated standards skills learning into your lesson plans, and find out what methods other teachers have found are effective.
While you're at it, why not post links to interesting sites that you find online – ones that provide good quality worksheets, lesson plans and teaching ideas, for example. There's a lot of stuff on the Internet, and a lot of it is junk. If you post good quality links for the followers of your blog to explore, you'll be doing them a favor by helping direct them to the good stuff.
2. Network and meet new friends
Blogging is a great way to meet new people and to spark discussions with others. You might start off slow – at first it will feel like you're "tossing posts into the void", with nobody to read them. But if you persevere, and make an effort to network with other bloggers online, eventually you will start to grow your own community centered around your blog.
I've kept a personal blog for going on ten years now, and through my blog I've met a great many interesting people and have participated in some great discussions with others. I've debated topics that interest me, shared knowledge with people who've needed it most, and have even managed to entertain people every now and then. With Mixminder, Yvonne and I have been providing free lesson plans and worksheets for anyone who might be able to use them. We've already received some heart-warming feedback from educators who have been using our curriculum all over the world – one lady working at an NGO in Malaysia has been funding her teaching of needy children out of her own pocket, and was glad to have free resources and teaching ideas to use in her classes. Hearing stories like hers makes you realize the power and possibilities that can arise from sharing information online.
3. Learn some new skills in technology and communication
You may be a very technically-minded person… but then again, you may not. If you're not, why not dive in headfirst and learn more about blogging and social networking? Blogging is easy to do, and if you blog in tandem with using the wide variety of social networking platforms available today – Facebook, Twitter, Pinterest and LinkedIn, for example – you may start to learn more about technology and how to use it to great benefit in the classroom. And by keeping a blog, you're also honing your creative writing and presentation skills every time you write a post.
You may not be teaching where you're teaching now in the next five or ten years… if you're going to be moving to a new school or are thinking of taking on a new position in another district, having some skills with technology under your belt can be a big advantage when it comes to applying for new jobs. Showing proficiency with computer software, information sharing and social networking can put you in a better position to attain an attractive position against someone who is afraid of computers. Note that I'm not saying that surfing Facebook all day long is a great way to jump-start your career!
The world is rapidly moving forward, and there are some astounding new technologies on the horizon… science fiction of yesterday is becoming today's reality. Instead of shunning these changes, we should embrace them – for our own benefit, and for the benefit of the students we are teaching who are going to be living and working in the high-tech world of tomorrow.
4. Show the parents of your students what happens in your classroom
If you share your blog with the parents of the students you are teaching, you'll be giving them a window into your teaching methods and sharing with them the person behind the teacher. This can be a bit of a double-edged sword; some parents may harshly judge who you are and what you are doing. But if you stay positive and remain true to yourself and to your ideals, I'm sure that most parents, at least, will be left with a good impression of what you share on your blog.
Note that it's very important not to feature pictures or videos of the kids in your class on your blog unless you receive permission to do so – there are some hotly-debated privacy issues with teaching blogs, and in this case, the less personal information about the children in your class that you share with the rest of the world, the better. You can, however, share pictures of the work your class has done – without featuring the full names of the students who created the work, of course. Showing off the glyphs, work center creations and art projects that your students have created in the classroom can garner some great feedback, and can also give other educators ideas of things they might accomplish in their own classrooms.
5. It's fun to do
I know it's a horrible cliché to end a list with "because it's fun!", but I'm going to do it anyway because blogging really is. It's great fun to network with like-minded people, to enter into discussions about what you've written, and to read the reactions of others. It's also fun to scope out the stats for your blog and to find out where people who are reading your blog come from – you'll find that readers from all over the world will check out your posts. And it's thought-provoking to look back at the posts you've written over the years and to see what you were and how you've grown into the person you've become.
If you're interested in setting up a blog, it's easy to do – and free! You can create your own blog at WordPress or Blogger (which is owned and operated by Google). If you're technically minded (or are close with people who are), you can set up a blog on your own server by installing some free blogging software from WordPress.
And if you've already got a teaching blog of your own, feel free to leave a comment below with a link back to your blog – I'd be glad to check it out!