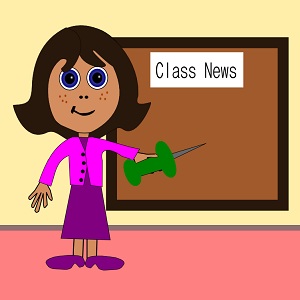 Brian writes: There's no doubt that the social sharing site Pinterest has been experiencing huge growth. There are lots of good reasons for this – Pinterest is an easy to use, unabashedly visual way of organizing and sharing information. Users can "pin" sites that interest them to self-organized online bulletin boards, and browse the pins and boards of the people they're following to find whatever fun and useful information their friends have discovered on the Internet.
While Pinterest is admittedly a fun way to pass the time (and lately a growing number of people have been passing a lot of time on Pinterest), it is also a useful tool for teachers and other professionals who are working full- or part-time in the field of education. I've come up with five good reasons why, if you're a teacher, you might want to sign up for a Pinterest account and start pinning.
1. Find curriculum online
There are already plenty of educators using Pinterest and pinning a wide variety of teaching-related materials to their virtual bulletin boards. Much of what's being posted is free curriculum – worksheets, lesson plans, activities, games and booklets that you can use free of charge in your classroom. There is also a lot of curriculum available for purchase from curriculum-selling sites like Teachers Pay Teachers and Teachers Notebook that you can peruse via Pinterest boards.
While most boards on Pinterest are owned and operated by lone individuals, there exists an option to turn a board into a collaborative board – a board that multiple people can pin links onto. There are plenty of collaborative boards on Pinterest where teaching professionals have been sharing a wide assortment of different teaching materials. If you're interested, check out my boards to see a few of them – if there's interest I might make a future post featuring a few of the better ones.
2. Follow the latest teaching trends
If you're using Pinterest and following fellow educators and companies that create educational materials, you're keeping up with the latest teaching trends and learning more about how different teachers around the world are helping their students to learn and grow. You'll see what pins garner the most amount of "likes" and "repins". These are the pins that are the receiving the most attention among the pins on the boards they're shared on – it's like a popularity contest of sorts.
It's fun to see what's trending on Pinterest, and to take part in those trends. For example, this past month has been a Dr. Seuss-themed month, and a great many teachers have been sharing the classroom ideas and curriculum that they've come up with to celebrate this theme. Just be careful when you're participating in a theme – themes can and do become overdone!
3. Create boards for your students to use
If you're studying a particular topic with your students, why not get them involved on Pinterest? For example, if you're currently starting a dinosaur unit in the classroom, you can create a collaborative board called "Dinosaur Pins" to which you and your students can post relevant information to your dinosaur unit. Depending on their grade level you can give your students an assignment to research dinosaur facts online and to pin the sites they find to your collaborative board. After this assignment you'll have a whole new wealth of information to research and discuss in your classroom.
I should mention here that there are always privacy concerns with having children or students sign up for social networking sites, and Pinterest is no exception. Pinterest does have the advantage that very little personal information is shared on a Pinterest board – pins consist primarily of links and images and not of personal details. However, as an educator you should be very careful about the way you have your students interact online, and make sure you explain your intentions to the parents of your students before you embark on such an endeavor.
4. Take advantage of the visual medium

This is more of a general reason to use Pinterest as a social sharing site, but it especially applies to teachers and others in creative professions. Pinterest, especially when compared to existing text-based social networking sites such as Twitter, is visual in nature. When pinning an item to a board you're asked for an image, a description and a category… and that's it. The image plays a huge role in the pin itself, and is, for the most part, what draws you to the information behind the pin.
Teaching young children (and, in my opinion, older children and adults as well!) should be done in as eye-catching and creative a manner as possible. By being a visual tool, Pinterest allows you to scan groups of pins and boards to find those pins that will take you to the most colorful and imaginative of information on the site. If you find a pin to a site that is colorful and interesting, you can click on it; pins to sites that are pale and bland you can avoid. This is a great time-saver when searching online for new teaching materials.
5. Network with like-minded educators
By joining the Pinterest teacher community and starting to share pins, you're setting yourself up to meet new friends who are in the same position as yourself. If you're a first grade teacher, there are plenty of other first grade teachers online who are already sharing and pinning and would love to talk shop with you.
Plenty of teachers own and operate their own teaching blogs (this is one of them); it's a lot of fun to read the teaching blogs of other teachers and to see colorful artifacts of what their kids have created in their classrooms. It's a lot of fun to run the teaching blogs of other educators, and links to teacher blog entries are becoming quite common on Pinterest. If you're an educator, getting involved with blogging and Pinterest is a great way to share stories of your own and to learn more about the profession that you love. And by sharing effective curriculum and teaching methods with other teachers, together we're improving the teaching profession.
As I mentioned earlier, there are serious privacy concerns involved with teacher blogs – be careful never to post any pictures or videos of the students in your class online unless with the direct permission of their parents.
Thanks for reading – be sure to leave a comment if you can think of any other great reasons why teachers should use Pinterest. And if you're already on Pinterest, why not comment with links to one or two of your favorite boards? I for one would be glad to check them out.
Free teacher resources on Pinterest
If you're interested in sharing information with me on Pinterest, here are some options:
I look forward to seeing you online!