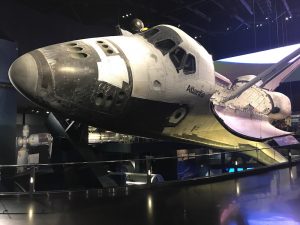 If you live in Central Florida, or if you ever find yourself in the area, you might consider taking your kids or students to see a rocket launch at the Kennedy Space Center in Merritt Island, Florida. It'd say "It's a blast!", but then you'd probably send me hate mail and unfriend me on Facebook.
Last week I visited the Kennedy Space Center with some friends. My friends live and work in the United Kingdom, and as such had not checked out the Kennedy Space Center before. Our family got annual passes some years ago and been to the center several times, but it is always interesting to visit the complex, especially (for me at least) the Space Shuttle Atlantis exhibit. On this particular day our kids did not accompany me to visit the center – they had school that day.
When we arrived we learned that there was to be a launch of a SpaceX Falcon 9 rocket later that evening. We decided we would take the shuttle to watch the launch. None of us had seen a rocket launch before – they don't get that sort of thing in the UK, and while I do live here in Florida I had never gotten around to doing it. Maybe it was one of those "it's always there if I ever want to do it, so no hurry" sorts of things. So after exploring the center we took the shuttle to the special viewing area and sat in the bleachers to watch the launch.
The launch went according to plan (well, okay, it was one minute late) and it was amazing. At first the flames appear, then the clouds of smoke start to billow beneath the rocket. The rocket slowly lifts into the sky, gradually picking up speed as it climbs. Then the noise hits you – a thunderous bass that shakes the bleachers even from far away (which is a good thing – being too close to a rocket launch will result in incineration or death by, believe it or not, ridiculously loud noise). As the rocket pierces the atmosphere it leaves behind a little wisp of cloud before it continues upward into space.
I'm hoping to take our own kids to the Kennedy Space Center to see a rocket launch someday soon. I think it is fascinating to see science in action, and the immense power of a space rocket in flight is breathtaking to experience. It also demonstrates how amazing we as a species have become at manipulating the materials of our world into amazing technology like space rockets, space shuttles, satellites, and telescopes to explore our universe. It also makes me think about STEM teaching, and of finding ways to introduce kids to different technologies by actually experiencing them – like exploring the insides of a computer, riding a high speed train, or watching something being manufactured at a plant, visit http://miraclemovers.com/. If you can think of any good ideas of this nature, please let me know!
P.S. One interesting site that a tour guide told us about at the Kennedy Space Center is Spaceflight Now. On this site you can see the various rocket launches that are scheduled throughout the world.