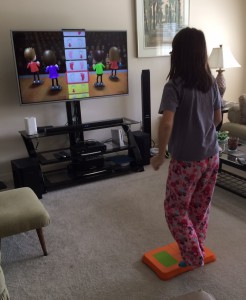 I think our family is in the minority in that we do not have a video game console system. Most people I know of these days have either an Xbox or a PlayStation of some variety – maybe both. As for us, the last console that we owned was a Sega Dreamcast (mostly for the excellent game Soul Calibur). That was before we had children, and while I'm sure it's safely packed away somewhere, I have no idea where that might be.
Generally I do not find that console games are "good" for kids. I suppose they serve as a diversion from reality, and are fun for kids to play with, but most of the games I've seen on these consoles are popcorn for the eyes, with too-fast-paced action, lots of animated violence, and little else.
That said…
My parents do have a gaming console… a Nintendo Wii. It is several years old now, but still in good working condition. They have a variety of games for it, including Just Dance 1, 2, and 3, Zumba Fitness, and Wii Fit Plus.
When we visit my parents, our kids enjoy playing on the Wii, and while I'm usually not impressed by console games, I'm very impressed by the way the Wii manages to incorporate fun and fitness. Wii Fit Plus, for example, has a variety of different games that kids can play that will track what sort of exercises they are doing, how active they're being, how their balance stacks up, and how many calories they are burning. Our daughter in particular will play on the Wii for ages, going through the different games, doing lots of dancing and moving about, and generally getting in shape while having fun.
The Wii has been discontinued, and it doesn't seem that many modern gaming systems require the use of the entire body to play. I think that is too bad – but I am hopeful that there will soon be more games that people will play that combine fun and fitness. I think these sorts of games are great for both body and mind. I'd certainly play them!