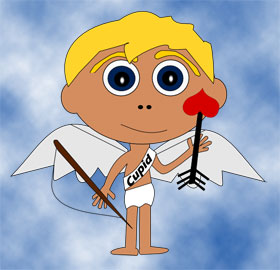 Yvonne writes: I hope everyone is having a wonderful new year. I can't believe that February is almost here! I really dislike the expression, time flies… but it truly does.
Valentine's Day is almost upon us. I am sure you are getting ready for the coming weeks by putting together an assortment of different fun activities for your class. I thought I'd help you out with your planning by making a Valentine's Day freebie. So here's an activity that I made especially for Cupids for Cancer!
Cupids for Cancer
Cupids for Cancer is a wonderful cause where schools collect healthy snacks for the children in their local children's hospital to eat while they are on site for treatment. I love how this cause makes it fun for the schoolchildren who are collecting food; the kids really get into the activity, gathering individually wrapped healthy snacks for the young patients in the hospital and participating in special themed days, like "Rockin' My Pink Socks Day" and "Have a Heart Hat Day". It is a fantastic cause.
Happy Valentine's Day!
I hope your students have fun with the worksheet, and that you and your class have a wonderful Valentine's Day!