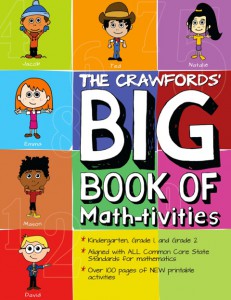 For a while now, we've been sharing updates about the upcoming book that we're publishing with Compass Books, the educational department of Brigantine Media. Well, this month, the book has finally been released in both paperback and digital (PDF) formats. We're very excited about it!
The book is called The Crawfords' Big Book of Math-tivities, and it features a variety of different fun-filled lessons for teaching mathematics for grades K-2. The book was created to align with the Common Core State Standards for mathematics; all Common Core skills for mathematics for grades K-2 can be found in one or more activities in the book. That is to say that if you're teaching according to the Common Core to students in kindergarten, first grade, or second grade, you'll be able to find a sample problem or activity that corresponds with each Common Core standard in your grade level.
Fun and creative Common Core math activities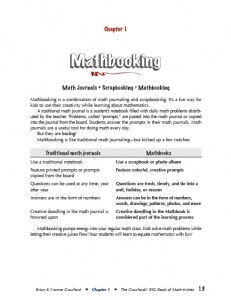 Activities in the book include:
Mathbooking, a creative take on math journal prompts
Goofy Glyphs, an engaging and potentially silly glyph activity
new ideas for incorporating the joy and energy of holidays and seasons into your math teaching
fun ideas for puzzles and games
ideas for teaching math outdoors
unique ways to combine math with storytelling
Instructions and tips for using these methods can be found in the book, as well as ready-to-use sample activities included with each chapter.
We are very excited about this new book – the folks at Brigantine Media have done an amazing job of bringing our activities to life with a fantastic layout and incredible graphics (as you can see by the cover). If you'd like to learn more about the book, here is a PDF preview of the book that you can check out; the book also has its own website.
Purchase the book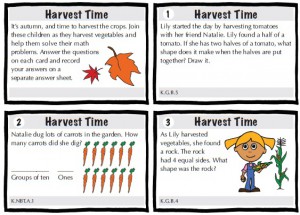 If you are interested in taking advantage of the special offer, here are links to purchase the book on the Brigantine Media web site:
The Crawfords' Big Book of Math-tivities (paperback)
The Crawfords' Big Book of Math-tivities (PDF)
If you do purchase a copy, we'd be very interested in hearing what you think, and how you plan to use the activities in your classroom. Thanks for your interest in our educational products!