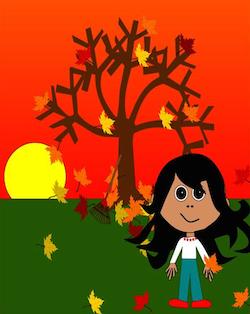 September has arrived!
Here in Florida, it's been a hot July and August (not surprising, really). With the arrival of September, I'm happy to see some of the cooler breezes arriving on our porch. September evenings are terrific evenings to go for long walks in the neighborhood, to spend some time at the swimming pool, or to visit the Disney parks! Our family much prefers to visit central Florida's attractions in the evenings; the weather is nicer, the crowds are fewer, and as such, the lines to the various rides are much shorter.
September Interactive Math Notebooks
These days, interactive notebooks are red hot. Most of the elementary and middle school teachers I speak to are using interactive math, reading, writing, and/or science notebooks in their classrooms this fall. They're a great way to get kids to get some hands-on practice using the various skills they will need to master during the school year.
If you're looking for September-themed interactive lessons for your students, we've made a Common Core-aligned September interactive math notebook for first, second, and third grades. Inside you'll find various interactive activities with a back-to-school and fall theme. You can find the products here:
A September poster for your classroom
Here is a free poster that you can download in PDF (or JPG format. You can put it on your classroom door or tack it to the wall to add some September charm to your decor. We hope you have a wonderful September!