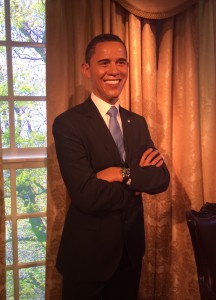 The other day we visited the Madame Tussauds wax museum in Orlando, Florida. It was an interesting visit, and my first time at a Madame Tussauds.
One thing that surprised me was how interactive the attraction is. Alongside the wax mannequins, nearly every exhibit features a variety of interactive games, quizzes, mini-sports, musical instruments, costumes, and other assorted props and activities that kids (and adults) can freely play with. Before visiting the museum I had expected that the various wax figures would be cordoned off, while people would work their way through the museum in a long queue, as is typical in museums and museum-like settings. However, much of the Madame Tussauds was quite open, and people were invited to touch and otherwise interact with the various wax figures on display. I saw plenty of people taking selfies with their favorite mannequins.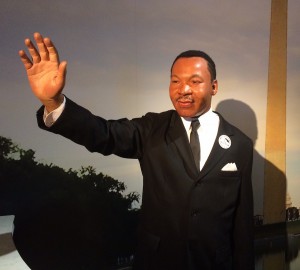 Madame Tussauds had some educational value, but it was somewhat limited. Each wax mannequin featured a little plaque on a nearby wall that presented information about the various historical figures behind the mannequins. However, while the wax museum could have been quite a significant educational experience for students, I found that most of the figures were of famous celebrities. There were a few important figures from history who were featured – Ponce de Leon, Albert Einstein, and Martin Luther King, Jr., for example. They even had a replica of Madame Tussaud herself, with an explanation of how she created her original wax mannequins. However, the vast majority of wax figures were of current or recent celebrities – Taylor Swift, Jimmy Fallon, Leonardo DiCaprio, Ryan Reynolds, and so on. Of course, you could learn a bit about these celebrities while touring the exhibit, but the Madame Tussauds wasn't really set up to be an educational experience; it is meant to be simple entertainment for an hour or so.
In all, it was a fun visit.