Spring is here… it's a great time to learn about poetry and other creative pursuits.
What is a haiku?
A haiku (俳句) is a type of Japanese short poem. Traditionally, haikus have consisted of 17 syllables, with:
Five syllables in the first line
Seven syllables in the second line, and
Five syllables in the third line
However, haikus do not have to follow this format… many famous Japanese haikus are simply short poems with a "cutting" (or juxtaposing) rhythm, often about nature or everyday objects or occurrences. It's also fun to tell stories using poetry as a medium.
It's a lot of fun to create your own haiku poems… it takes a bit of work to follow the rules for lines and syllables in haikus and write something that does not sound choppy. It's not enough to simply write 17 syllables worth of prose from beginning to end… the syllables per line rule means that the haiku should flow a certain way, in a manner that is moving and rhythmic. Getting kids to compose their own haikus is a great way to help them practice following other English grammar rules.
A poster about haikus
Here is a poster that will help you to explain haikus to your children or students in your classroom. The best part about this poem is that it is a poem about haikus, written using haikus! As such, your students can learn about the nature of haikus by reading a short series of haikus.
Common Core poetry lessons
If you're teaching your students English language arts and literacy lessons according to the Common Core State Standards, here is a packet that you can use to teach poetry. In this packet can be found lessons where students can learn about and compose a variety of different types of poems, including:
Haikus
Shape poems
Alphabet poems
Autobiographical poems
Alliteration poems
Color poems
… and more. If you have been teaching poetry in your classroom, and have been writing other types of poems that are not found in this packet, please let me know! I'd be interested in learning about other, different styles of poetry, and how to create new, unique types of poems.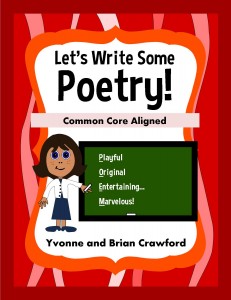 First, Second, Third, and Fourth Grades
Common Core standards: 1.RL.4, 1.RL.10, 2.RL.4, 2.RL.10, 3.RF.4b, 3.RL.10, 4.RL.2, 4.RL.10
My post is finished.
I hope you have a great day
Writing poetry!