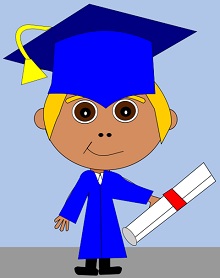 The month of June has arrived, and students are leaving the classrooms and getting ready to have fun in the sun during the hot summer months. Most of your children are graduating from your classroom to move on to the next… some kids are even graduating from primary or elementary school and are moving on to new schools, new classrooms, and new teachers. It's an exciting time!
Your students have worked hard this year… why not show them some appreciation for the work they've done with these free downloadable bookmarks. Your students might appreciate the gesture, and it couldn't hurt to help to promote reading during the summer months, so that they'll be fresh and ready for their new adventures during the next school year.
I hope you and your kids have a wonderful June, and a terrific summer!
Instructions
Print out the attached PDF on card stock (for stability). If your computer doesn't display PDF colors correctly (some don't), here's an image version.
Write personal notes to your students on each bookmark, if desired (note that some of the bookmarks may require it).
Cut out each bookmark individually.
Laminate each bookmark.
Present them to your students, either publicly or privately – it's up to you how to turn the presentation of a classroom reward into a special occasion.