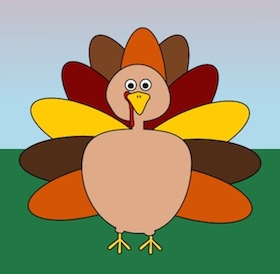 American Thanksgiving is just around the corner! And I, for one, have plenty to be thankful for. It's been a great year so far! And the holiday season is nearing – I love this time of year!
A Thanksgiving turkey craft
If you're looking for a fun craft to make in your classroom this November, here's a Thanksgiving turkey with a variety of different feathers that you can cut out. Your students can cut out and paste or tape together the turkey, then write the various things that they are thankful for on the provided feathers. Finally, they can color the turkey and otherwise decorate it however they like!
The free PDF download for the Thanksgiving turkey craft can be found at the bottom of this post.
Math and English Language Arts Common Core Thanksgiving Activities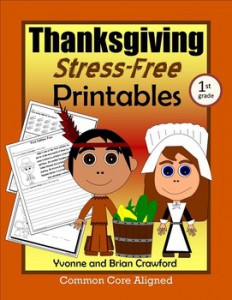 Looking for something to do in the classroom in those days leading up to Thanksgiving?
Here are some easy-to-use Common Core-aligned math and literacy printables that you can use in your classroom for those days or weeks leading up to Thanksgiving. Problems involve mathematics and English grammar and writing skills for a variety of grade levels.
These worksheets are designed to be stress-free, offering an easy-to-use solution for the classroom activity, or for a substitute teacher. Why not check them out?
I hope that you have a wonderful lead-up to the Thanksgiving weekend, and that your Thanksgiving is spent with food, family, and friends!
What are you and your students thankful for?
Using the following Thanksgiving turkey craft, students can cut out the featherless turkey, and the oval feathers. They can then paste the feathers onto the turkey to create a turkey with feathers. On each feather, they can write something that they are thankful for – for example, family, friends, food, pets, or good health!
When the crafts have been completed, you can put them on display on your classroom wall or on your classroom door, or let your kids take them home to put on the fridge to add some Thanksgiving cheer.
A quick disclaimer – I did this craft when I was a kid, and while I may be a turkey, I'm certainly no spring chicken. So I am pretty sure that variations of this craft qualify as "fair use"!
Happy Thanksgiving!