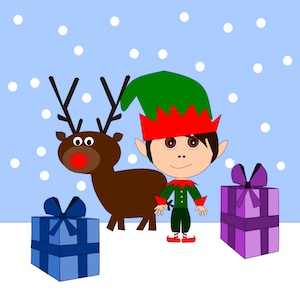 Thanksgiving is over, November is drawing to a close, and the Christmas lights are popping up all over the neighborhood! It is time to get ready for the holiday season. I for one am excited about it.
Teaching during Christmastime
If you're a teacher or a homeschool parent, you may be thinking about incorporating some holiday-themed learning activities in your classroom. Can't hurt to bring a little Santa Claus and his elves and reindeer into the classroom to get the kids motivated and excited about the coming holiday break. If so, then this is for you – below, you'll find a holiday teaching planner that you can use to figure out what holiday activities you are going to teach, and when.
But first, I want to quickly bring up the sale on Teachers Pay Teachers that starts tomorrow.
Cyber Smile Sale on Teachers Pay Teachers
Tomorrow the Cyber Smile Sale will be taking place on TPT. We'll be marking everything in our store 20% off, and TPT will remove an extra 10% off for a total of around 28% off our entire store. So that's cool. It's a good opportunity to shop for Christmas worksheets, printables, and activities.
In order to take advantage of the sale, use the code smile on checkout.
Our store can be found here. We have an extensive variety of Christmas items. Please visit even if you're not buying anything, just to check it out!
Holiday lesson planning
Here is the worksheet that you can use to plan out which holiday teaching activities you are going to be using throughout the month of December before the Christmas break. I've included a holiday planner for December of 2015, and also a generic holiday planner that you can use at any time. I hope it comes in handy for you!
Have a wonderful month of December!