Summertime is here, and the living is easy. And here in Florida, it's also hot!
Back to School Questions
It's only late June, so there's lots of time left before you have to think about heading back to school. But it's going to happen eventually.
Here's a free printable that you can use to learn more about your kids. Hand it out and have your students fill it out. You can also use it to have a discussion with your students – have them talk about what they like about school, what they don't like, and what they're most looking forward to doing in and out of your classroom this year. Then you'll know where to work with them, how to energize them, and what sorts of things you can chat about with them!
You can also use it to have a discussion in your class, and get students with like interests talking together.
Back to School Reading Passages
Here's an activity that you can do with your class to get them reading through some back to school stories and discussing what they've read in class.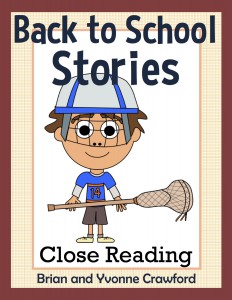 Back to School Reading Passages – Close Reading features four stories for your students to read. It is targeted toward first grade, second grade, and third grade students.
Your kids can read the stories and answer the questions on the worksheets. You can also read the story together in class, answering the various questions posed in the Notes section on each page.
One of the stories in the book features students who are returning to the classroom filling out a questionnaire with their various interests, and then comparing their sports and hobbies with the other students in the class. The questionnaire the kids use in the story is also available as a printable for you to use in your own classroom. So if you like the Back to School Questions printable you can download for free here, you might try the version in the Back to School Reading Passages packet. If you do, please let me know what you think!
I hope you have a wonderful summer!