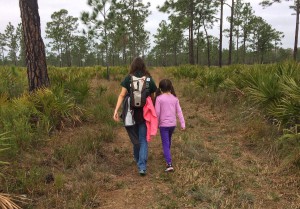 As a family, we thoroughly enjoy getting out and exploring nature together. I've posted about one of our nature walks before, in this post about our visit to a protected forested wetland near where we used to live in northwest France. I have also posted about our son's love for carnivorous plants, described some of the different species of carnivorous plants that we have collected, and explained why I personally think it's a great idea to keep carnivorous plants in the classroom for your students to care for and marvel at.
Since writing these two posts, we have moved from Europe back to the United States, and are residing in a small town in central Florida, quite close to Disneyworld. This is great for several reasons – we can pretty much go to the Disney theme parks any time we like (which, in Yvonne's case, turns out to be quite often!), and it also gives us an opportunity to explore some of the interesting and diverse nature that this region of Florida has to offer.
A trip to the Hal Scott Preserve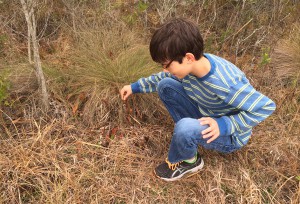 So, yesterday we took a trip out to the Hal Scott Regional Preserve and Park, situated along the Econlockhatchee River (say that ten times fast!) in Orange County, Florida, just east of Orlando. We chose this place particularly because information about the site indicated that hikers can find carnivorous plants living in the wild at the park – something that I had certainly never seen in my lifetime. So we packed up the car and drove the short trip to the site.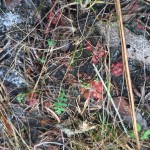 I must admit, I was pretty skeptical about actually finding carnivorous plants at the preserve – the Sarracenia Minor (hooded pitcher plant) that we were hoping to see is an endangered species, and I had kind of figured that it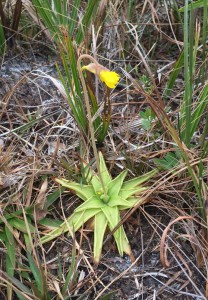 would be difficult to find these plants along the hiking trail. But lo and behold, we found not only the hooded pitcher plant, but three different species of carnivorous plants in total. We found the Sarracenia Minor (hooded pitcher plant), a type of Drosera (sundew), and even an interesting variety of Pinguicula (butterwort) – a species we weren't expecting to find, but that our son managed to pick out within the brush. If you don't know what these plants are, don't worry – I've included pictures.
Our hike was a five-mile trek that went around the park through huge, expansive fields of palm fronds and wire grass with small wet, swampy areas interspersed within. The course remained pretty much flat the entire way (this is Florida, after all), which made for a nice, leisurely walk. Not to mention that the weather in Florida in February is wonderful for going on a nice long walk with the family. There was a very interesting part of the trail that veered off the main path and ended up in a beautiful swampy wetland creek.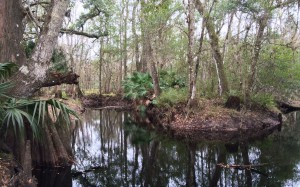 There we found plenty of healthy cypress trees – complete with the "knees" that poke out of the ground to help the trees "breathe" (bring oxygen to their roots) – while five or six short-tailed hawks glided overhead, searching for prey. At least I think they were short-tailed hawks, and I think they were searching for prey – I admittedly know a lot less about birds of prey than I do carnivorous plants – thanks to my son – so who knows. But it was nonetheless cool to see.
Take advantage of where you live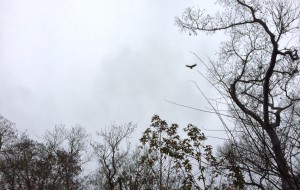 The moral of this story is that we managed to find a magical place, full of really interesting carnivorous plants – not to mention plenty of other varieties of flora and fauna – a short drive from our house! And there are plenty of other neat parks and special areas that we hope to explore in the coming months. I suggest taking some time to figure out what interesting sorts of places are located near where you live – parks, reserves, museums, libraries, zoos, theaters, historical sites – and take special trips to those places to explore, enjoy, and learn. Have fun!
Outdoor science
If you're interested in teaching your children or students a little about outdoor science, here is our Outdoor Science packet for second, third, fourth, fifth, and sixth grade, featuring various interactive activities and projects for them to work on. With this packet, students will learn about:
Ponds
Food chains and food webs
The life cycle of a frog
Ecosystems
Forests and forest layers, and
Tree growth and decomposition.
If you decide to purchase and try out these activities with your class, please leave a comment to let us know what you think about them! And if you have recently taken your kids or students on any interesting outdoor adventures near where you live, I'd love to hear about those adventures as well.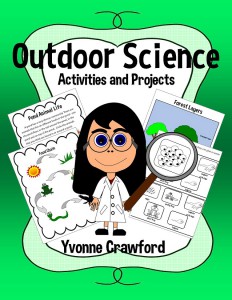 Second, Third, Fourth, Fifth, and Sixth Grades
Outdoor Science Activities and Projects