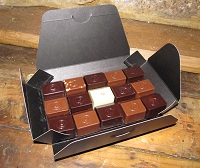 A free Valentine's Day math game
In celebration of Valentine's Day, here is a fun and free game for teachers and parents to teach mathematics to first and second graders. It will help your children or students to practice differentiating between odd and even numbers and counting numbers in order. Download and print out the game, cut out the individual pieces of chocolate candy, and have your children place the candies into the picture of the heart-shaped box in different ways according to the numbers written on the candies.
About Valentine's Day
Valentine's Day is celebrated every February 14th; it is a special celebration of love and affection. The day is named after Saint Valentine, an early Christian martyr learn more here. Traditionally, a person will give his or her loved one (girlfriend, boyfriend, husband or wife) special treatment on Valentine's Day, showering them with gifts such as flowers, jewelry and heart-shaped boxes of chocolate candy.
Happy Valentine's Day, and happy counting!