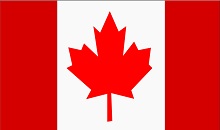 July is just around the corner, and so is Canada Day!
Canada Day is a day for Canadians all over the world to celebrate the creation of the Dominion of Canada. On July 1, 1867, the British North America Act, 1867 brought together the three provinces of New Brunswick, Nova Scotia and the Province of Canada (which later became the separate provinces of Ontario and Quebec) into a single Confederation. The date of July First was originally called Dominion Day and was celebrated as such in Canada until its name changed to Canada Day in 1982. The biggest Canada Day parties can be found on Parliament Hill in Ottawa, Ontario, the capital city of Canada.
A free Canada Day worksheet
Here is a free word search worksheet for your children or students to complete. The words to be found within the word search all have something to do with the country of Canada or Canadian culture. If you're distributing this worksheet in a classroom setting in Canada, why not take the time to talk to your kids about Canada and what it means to be a Canadian citizen? And if you're in the United States and downloading this worksheet, now is as good a time as any to teach your children or students a little bit about your friendly neighbors to the north.