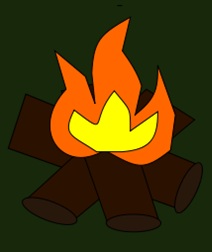 Brian writes: This week is a great week for camping! Later in the week I'll be heading to Canada (where I'm from), to a friend's cottage on Lake Muskoka, located two hours north of Toronto, Ontario. There will undoubtedly be swimming in the lake, boating (and maybe water skiing), a campfire or two, and some long hikes through the forest. Meanwhile, our son is going to be traveling to an overnight camp here in France where he'll be participating in a series of outdoor sports and various nature-themed activities. He's got his sleeping back and his backpack all ready for the trip. It should be a fun time!
A free word search with words from camp
Here is a free word search worksheet for your children or students to complete. The words to be found within the word search all have something to do with camp and camping. I hope that it gets your kids and the rest of your family in the mood to explore the great outdoors. Have a wonderful summer – roast a few marshmallows for me!