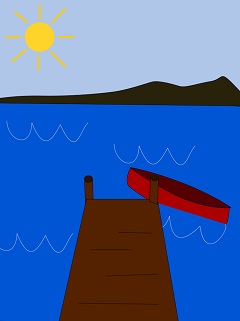 Brian writes: I grew up in Canada, a country where interacting with nature is a big part of growing up. North of Toronto and west of Ottawa you will find Ontario's cottage country, a land of crystal-clear lakes, towering trees, and lots of jutting rock formations that form the majestic Canadian Shield. It's an ideal place to go hiking, to find a remote spot deep in the woods or beside a beautiful freshwater lake, to pitch a tent and to do some camping with your friends and family.
Here is a free word scramble puzzle for you to download and print for your children to complete. Your children or students should unscramble the various words on the page – all of the words in the puzzle are camping-themed – and then enter the letters that they find in the numbered cells in each word into the similarly numbered cells at the bottom of the worksheet. When they have finished filling in the numbered boxes, they will have discovered the hidden message that is the solution to the word puzzle. When your children have finished solving the puzzle, they can check their answers against the answer sheet that is included as the second page of the PDF download.
I hope that you and your family spend some quality time outdoors this summer. If you're spending some time outdoors with your children, why not make an effort to learn something new together about nature, and about the incredible natural world around us?