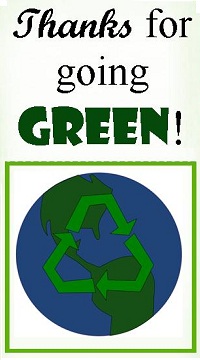 April is upon us! Spring has finally arrived, and Easter is coming! The Easter Bunny is putting on his paint-covered overalls and cramming his Easter basket full of eggs, ready for delivery to kids all over the world (I don't know why, but I always imagine he wears bright blue overalls slathered with paint whenever he goes out delivering eggs).
Easter is a holiday to get excited about, but it isn't the only special day celebrated during the month of April… Arbor Day and Earth Day both take place this month. April is a great month to teach students about the environment, about saving the planet, and about what it takes to "go green". Reduce, reuse, recycle… help to teach kids to respect the environment at an early age and it will carry on into their teenage and adult years. Plus, it's fun!
If your students have been working hard in the classroom, why not reward their efforts with some April-themed reward bookmarks? They'll appreciate the recognition for their work and classroom participation, and these reward bookmarks might come in handy after those late nights spent under the covers with a flashlight, reading a favorite book. Let your students know you appreciate their hard work while promoting reading and literacy at the same time.
Instructions
Print out the attached PDF on card stock (for stability). If your computer doesn't display PDF colors correctly (some don't), here's an image version.
Write personal notes to your students on each bookmark, if desired (note that some of the bookmarks require it).
Cut out the bookmarks individually.
Laminate each bookmark.
Present them to your students, either publicly or privately – it's up to you how to turn the presentation of a classroom reward into a special thing.