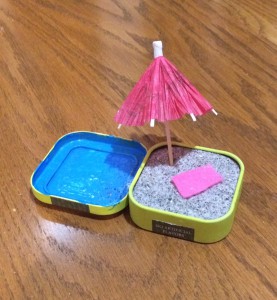 For many of us in the United States and my native Canada, it's been getting very cold! And many of us have been seeing record snowfalls. Not us, this year – living in central Florida means it's going to be a green Christmas for our family. But it's fun to watch the snow flurries falling in other parts of the country!
The other day our daughter made a little craft out of an empty tin of Trader Joe's Green Tea Mints (which are really quite good, by the way, if you like the taste of green tea). I thought it was very creative and figured I'd share it here. I'm not sure where she got it from – she thinks it might have been from an American Girl magazine from a few years ago.
To make a little beach out of a tin, you simply do the following:
1. Get a tin of mints – Altoids, or Trader Joe's Green Tea Mints, or similar
2. Open up the tin
3. Paint one side of the tin sea blue, like the water of the ocean
4. Paint or decorate the outside of the tin, if you like
5. Fill the other side of the tin with sand, like a sandy beach
6. Add a little rectangle of colored felt or construction paper for a towel
7. Add a paper umbrella, like the kind you find in mixed alcoholic drinks
8. Add whatever other beach decorations you like – small shells, etc.
And there you are! Now you've got little bit of summer sun you can enjoy during the winter.
Stay warm out there!