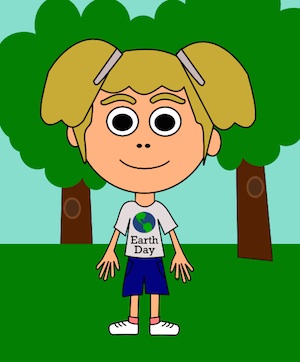 I'm a big fan of Earth Day! Growing up in Canada, I always appreciated the forests and lakes of my homeland (I probably would have appreciated the Rocky Mountains, too, but I grew up in the eastern part of the country. I guess I appreciated them from afar). I did plenty of scouting and camping as a kid, and I fondly remember frequent trips to our family cottage by the lake in a forested area of northern Ontario. I used to dream about being a forest ranger, sitting atop a fire tower in a remote Canadian forest, taking in the peace and tranquility and fresh air! But they don't tend have very good Internet way up there, so that's probably a no-go.
An Earth Day poem and poster
Interested in celebrating Earth Day in your classroom? Below you will find a free poster I made for Earth Day that you can display on your classroom walls or distribute to your students to use in their writing and language notebooks (or maybe in another fun and creative way you can come up with – it's late and my imagination is running out). It features a poem I wrote about respecting our beautiful planet Earth, and is available for free download in PDF format.
Earth Day Common Core Stress-Free Printables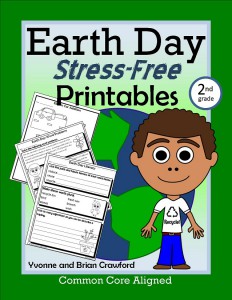 Yvonne and I have created some no-prep printables packets for your classroom, including the Earth Day Common Core Stress-Free Printables, now available at our store at Teachers Pay Teachers. For Earth Day these packets offer a variety of different worksheets aligned with the Common Core State Standards for Mathematics and English Language Arts, and are available for first, second, third, fourth, and fifth grades.
The packets feature a fun Earth Day theme, including recycling, the environment, planting trees and saplings, and a general appreciation of the planet Earth. The pages are all ready to be printed and used: no prep, no laminating and low ink for a no-stress experience. The worksheets comprise several different levels of activities to help with differentiation in a classroom.
You can use the activities in this packet in a variety of different ways:
As morning work
As homework
As a skills review
As an assessment
For a substitute teacher
To accompany an Earth Day unit or work center
We also have Easter Common Core Stress-Free Printables available at our TPT store for Easter, another holiday that takes place in April this year.
If you do check out these products, please let us know what you think! We're always interested in feedback and looking for suggestions for new products that teachers can use in the classroom or in a homeschool environment.
The Earth Day poem and poster
Here's the free poster for Earth Day. I hope you have fun teaching your students about our beautiful environment!