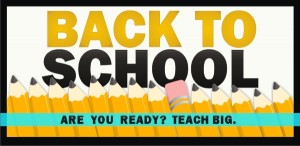 I'm excited to be featured as a speaker at the Back to School Virtual Teaching Expo that starts August 25th, 2012. The Virtual Teaching Expo is an online event where you can learn about the latest teaching tips and ideas. The goal of the Virtual Teaching Expo is to provide teachers with in-depth presentations of the tools they need in order to improve upon their profession and to start sharing the resources they create with the rest of the world.
Creating a Fun Math Environment with Math Journals
My topic will be Creating a Fun Math Environment with Math Journals. I will help you discover the different uses for math journals, how to set up a math journal, how to create your own fun math journal prompts, and how to ensure that the Common Core standards play a role in your journal prompts. With these tips you'll have all the information you need to add an exciting new dimension to your math lessons. So bring on the new school year!
Other Virtual Teaching Expo Topics
Other topics that will be featured at the Virtual Teaching Expo include:
Free Ticket Raffle
Tickets to the Virtual Teaching Expo cost $10; however, one exciting part for me as a speaker is that I get to give away ten free tickets to this event! So let's get the giveaway started.
The giveaway will only last one day, closing at midnight tonight, August 15th, 2012. Winners will be notified tomorrow, August 16th. There are two ways you can enter the raffle for the free tickets. Using the Rafflecopter widget below:
To earn one entry, 'like' my Mixminder Facebook page
To earn a second entry, share this post via Facebook or Twitter
Best of luck to you! I look forward to seeing you at the Virtual Teaching Expo.