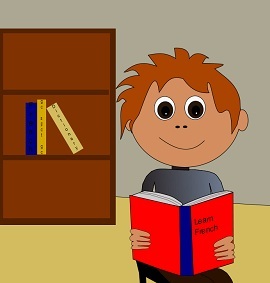 Reading is a crucial part of a child's educational foundation. Once children learn to read fluidly and are able to retain concepts, a whole new wonderful world is opened up to them. From that point on, they can start to learn about anything they want! Here are five ways that you can promote reading in your school classroom.
1. Share Your Favorite Story Day
Once a month or so, ask your students to bring their favorite books to class. These can come from their own homes, from the school library, or on a Kindle, Nook or another type of eReader, depending on the grade level of your students, and on how secure your classroom environment is. You can give each child a chance to stand up in front of the class and explain the things they love about their favorite book. Encourage the other students to jot down the names of the books that sound interesting to them so that they can find them and check them out from the library as well – or keep a list of each child's favorite book on the wall of your classroom that your children can refer to when they're off on a trip to the library. You can even add a colorful chart or graph to show which books are the most popular books in your particular classroom.
2. A comfy cozy book nook
For me, the only better thing than reading a good book is reading a good book curled up in my warm bed! While can't very well create cozy bedrooms in our classrooms, with some effort we can create a comfortable environment for our students to curl up and read books. You can spread out little shag carpets (samples from a local carpet store could be utilized here), plush bean bags (my favorite as a child!), or huge fluffy pillows that you might be able to find at a discount store. Students can be allowed to read in the classroom library as a reward for being "fast finishers", while working at a learning center, or for any other good reasons you might be able to come up with.
3. A chartable reward system
Children love working towards a challenging goal, with rewards for hard work and dedication. You can create a chartable reward system where if they read a certain number of books, they earn a reward of some sort. The reward can be as simple as a sticker, extra recess time, library time, or a special bookmark.
Having a chart on the wall tracking the number of books each child has read can create both a sense of competition and a sense of togetherness if your students are working toward reaching a common reading goal. Make sure, however, that you stage your reward system in such a way that rewards are available for all students – those students that are not the fastest of readers and therefore won't be reading the most books in the class should also be encouraged to participate and earn rewards.
4. Pair story retelling time
My children love giving me the details of the various books they have read. Although it would be time-consuming to let every child get up in front of the classroom and go into great detail about the books they have read, you can pair up the students in your class and have them tell each other information about the various books they read during that particular week. Move kids around from week to week so that they have a chance to chat with a variety of other children about their favorite books.
5. Facilitate a book exchange
Ask students to bring in copies of books they have read and have an exchange program where your students can swap books and read each others' books. This probably won't be "for keepsies" so make sure that students write their names inside the front covers of their books before facilitating the exchange. Our students are encouraged to keep library books or books belonging to other people in their backpacks whenever they're not being read so that they won't accidentally leave them lying around the house when they're needed in the classroom.
I hope that that these ideas help to promote a fun and stimulating reading environment for your students! Please feel free to leave comments below about any other ways that you have discovered that help to promote reading in your own classroom.