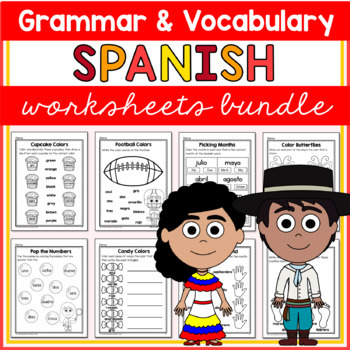 When learning a new language, it's so important to do a little Spanish every day. It's good to reinforce what you've learned and build upon that each and every day. This is doubly so important for kids. You might be thinking that you aren't 'qualified' to teach Spanish to your children or students, but if you know a little, you can learn with them!
There are lots of different tools you can use to help your students or children learn Spanish. One of my favorites is Duolingo. If you used it 5 or so years ago, try it again! It's changed so much and it's much more interactive and game-like, giving it more qualities that young learners will enjoy.
Another great (and easy) way to get a little Spanish into your child's life is to watch TV shows in Spanish. What I love to do is to find my favorite shows on Netflix and then change the track to Spanish when watching. Even better is to find a show that is originally made in Spanish.
In the classroom you can add simple and easy worksheets to reinforce vocabulary with your students. Worksheets can help you see which words your students or children know and which ones you need to focus on more. You can find some Spanish worksheets here.