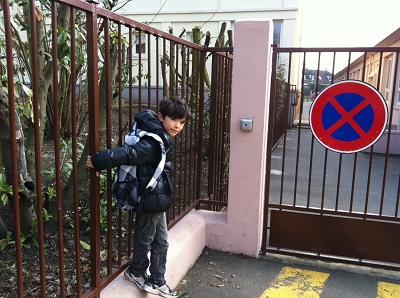 A year and a half ago, my wife and kids and I sold a good chunk of what we owned (including two cars and all the furniture in the house), gave most of our clothes, books and toys to charity, crammed our suitcases full of as much stuff as they could hold without bursting and moved our family to France. Best decision ever!
A year and a half later and we're still here, living in a small town in beautiful Normandy. Our children learn something new every day – about French food and culture, the geography and vast history of Europe, and – most importantly – the French language. This is not by chance… in fact, one of the principal reasons we decided to move our small crew to France was so that our children could get a crack at becoming completely bilingual. I'm happy to report that they are well on their way.
You might not choose to move your own family abroad, but you can still strive to give your kids a foreign language education. There are plenty of ways to go about it – language immersion schools (like the French immersion programs in Canada, where native English-speaking students are taught in French throughout the school day), language classes during school hours, or tutors who can teach your children interesting and exotic languages after the school day is done. If you're enterprising, you yourself can attempt to teach your children or students another language – even one you aren't fluent in yourself. But why would you want to teach your children a second language?
Why teach children a foreign language?
It's been proven beneficial to teach children a second language and to expose them early on to foreign cultures and different ways of life. Enough to pack up and move your family to France for? Perhaps! Here are my five reasons why:
1. Learning a second language is good for the brain
The process of learning language not only improves upon one's language acquisition skills, but it's good for the rest of the brain as well. Studying a foreign language aids that part of the brain that aids in learning music and musical theory, problem-solving, and mathematics. Studies in Canada on Canadian students placed in French immersion programs have demonstrated that bilingual people have enhanced problem-solving skills and a greater ability to parse through the information they are given when thinking their way through daily challenges.
I'm pleased that our childrens' minds have already been put to the task of parsing through another language, and learning how to flip back and forth seamlessly between French and English. How could constantly challenging a young mind like that not help to build mental flexibility?
2. Second language education teaches children about other cultures
While our kids are living in France, they're learning French, sure – but they're also learning about the French people, their culture, and (last but not least), their food!
Some of the fun things that our kids have done while living in France include: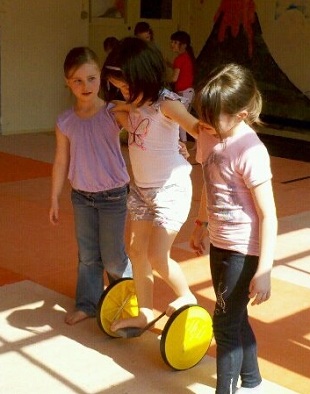 watching French marionette shows
attending French birthday parties
eating traditional French baguettes with good cheese
visiting Disneyland Paris (numerous times of course)
taking circus classes (yes that's right – they teach kids how to be circus performers here!)
going to Bastille Day fireworks events
performing in a French children's theater
learning French musical theory
visiting Le Mont-Saint-Michel and other well-known historic landmarks
traveling by overnight ferry from France to Ireland and back
lounging on French beaches
visiting an island school to study French arts and culture
staying at overnight summer camps
playing French sports (like Pétanque, a French version of bowling, and lots of soccer)
drinking lots of French wine! No, wait, that was me.
The best part of the kids' having done these things is that they did them with French friends or teachers in a French-speaking environment… they did not complete these activities as tourists or outsiders, but as French students themselves. It has ingrained within them an understanding of the French people and their lifestyle. And by gaining this deep understanding of another people as children, they have a much better chance at becoming open and understanding adults who appreciate the fact that there are many different types of people in the world, all of them of great worth.
3. Second language education helps a child master his or her first language
Many people believe that if an English student starts schooling in a French-speaking environment, his or her English language skills will suffer as a result. Fortunately, this is not the case!
The Canadian studies into French immersion programs in the province of Ontario discovered that, during the first few years of a French immersion program, students did tend to have lower English literacy scores than their peers in English-language teaching environments. However, those same studies also discovered that 15-year-old French immersion students performed better on reading assessment tests than non-French immersion English students, even when tested in English.
While you may be concerned that your elementary-level student is falling behind in English while learning a second language, you shouldn't be. The benefits of learning one language at school and speaking another at home will become apparent after several years of schooling. Being able to parse two different languages, and to understand the grammatical differences and similarities between them, will eventually give students a much firmer grasp of their own mother tongue than if they had grown up monolingual.
4. Understanding a second language gives a child a sense of pride
Our kids are a bit young to understand how cool it is that they are going to be fluent in a language other than their native tongue – but as they grow, I believe that they realize what they have accomplished and will be proud of what they have done. I myself am proud of my own efforts to learn foreign languages – some years back I attended a program at a French graduate school, and I also took a series of extensive Mandarin Chinese lessons as part of an American graduate school program. While I'm not completely fluent in Chinese, I am certainly proud of how far I have progressed with the language, and look forward to future improvement.
I do notice that our kids get respect from certain people – the teachers at their French primary school, for example, are impressed by their abilities with the French language and at how quickly they are progressing with their studies. Not to mention that when our kids first arrived at a French school coming from the United States of America, they build up a small following of other kids that were fascinated by them.
5. A second language is fun to use in a real life setting
Living in France, my family and I have a lot of fun experiencing the French language together. Meeting with groups of friends, taking classes, ordering baguettes at the bakery, watching TV… being immersed in a language is a fun and profitable experience.
Studying a language is an activity where the ends can help to justify the means. Unless you're studying a dead language like Latin, or a made-up language like Esperanto or Klingon, you can see direct results of your language-learning endeavors by visiting another region to speak with natives of the language you're learning. I had a great time visiting Taiwan and speaking Mandarin Chinese with the people that I met – even just ordering food at Taiwanese restaurants and actually receiving what I ordered was a big thrill – and the more you know, the further you can take your language skills, building lasting friendships with extraordinary people who might not even speak your own tongue. And now that I think about it, I take it back – learning Klingon would probably be pretty sweet.
Go study a foreign language!
By my words and by my actions, I think it is pretty clear that I am a strong supporter of learning foreign languages. I'm interested in your own stories or questions – please leave a comment below if you have anything to ask or to share. I'd be glad to talk further about my own experiences, and our kids' experiences, with learning foreign languages. If nothing else, our kids certainly seem to find it fun to speak French in front of their parents using words and phrases that even we don't understand! Maybe I should be concerned about that…